Outlook Add-ins can be a handy way to increase productivity for your organisation and get more out of Outlook and Microsoft 365 more broadly.
We can install Outlook Add-ins from the Microsoft 365 Admin Centre which saves an enormous amount of time and ensures everyone has them available to use.
Report Message
The Report Message Outlook Add-in allows everyone to:
Report junk emails that are getting through the email filtering system by clicking "Junk".

Junk emails are simply unwanted or unsolicited emails. They are not considered to be malicious in nature.

Report phishing emails that are getting through the email filtering system by clicking "Phishing".

Phishing emails are where someone is trying to impersonate a fellow staff member, client, or supplier in order to extract sensitive information from you. This usually includes credentials, account numbers, or to get you to open an attachment or link that contains malware. They are considered to be malicious in nature.
In more sophisticated attacks they may be impersonating one of your supplier where they simply inform you that they have had a change in bank account details and would like you to update your system. You then either forward the email to your accounts department, or make the changes yourself, and after a few months your supplier puts you on credit hold as you haven't paid their bills (you have been paying the attacker instead).

Report legit emails that are getting caught in your Junk Email folder by clicking "Not Junk".

We work very hard in catching enough spam with minimal false positives, but it's never perfect as the attacks are always changing their tactics.
This helps fine tune the false positives.
Not only does this Add-in give everyone the ability to administer these changes without having to involve IT, any changes made apply to the entire company, which helps to fine tune the email filtering system providing a safer and less disruptive email system.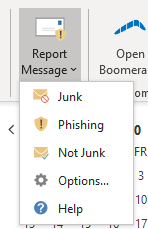 Message Header Analyzer
The Message Header Analyzer Outlook Add-in helps with identifying whether emails are Junk, Phishing or Not Junk. It quickly shows you the true From Address, To Address and Subject. It also has some technical information that can be very handy for us!
Some suggestions that will help you identify fraudulent emails include:
From address – check the display name matches the email address i.e. John Smith <john.smith@yoursupplier.com.au>
To address – check the to address and that they have address i.e. Jane Doe <jane.doe@yourdomain.com.au>, Hi Jane
Spelling / grammar – poor spelling and grammar can be a giveaway
Context – Do you know the sender? Does what they are asking for apply to you? Or is it usual practice?
Call to action – what do they want from you? To open an attachment, to follow a link, to reply with sensitive information?
Boomerang
The Boomerang Outlook Add-in assists with sending emails. A few examples of how you could use it include:
When sending an email, if the recipient doesn't respond within a specific time frame Boomerang will notify you.

Typically you would put in a reminder in your calendar, create a task, or create an entry in your Job System. All of these methods take time which may be very worth while on high value tasks but may take more time than what they are worth on low value tasks.
Once you have completed the task you also have to remember to complete the follow up. I end up spending quite a bit of time at the end of each week reviewing tasks and finding I completed them already throughout the week but forgot to mark them off. This takes more time.
The beauty with Boomerang is that if the recipient responds within the specific time frame the task is automatically closed off.

You can send messages but delay them actually getting sent by a specific time frame.

Handy for when you're working late but don't want to show it. Or want to send off a bunch of emails without getting distracted by the replies.

You can request a read receipt.
You can pause your inbox if you are trying to focus.
Speak with us if you would like us to push out any Outlook Add-ins via your Microsoft 365 Admin Centre.